On The River
Murray River Kayak Tours
The Bundalong backwaters are teeming with bird life, fish the ocassioanl turtle and platypus . Your guide will navigate you through little creeks, and take you where the ski boats can't go … in fact only a kayak can get to, this is a unique experience and available to anyone with a very base fitness level (no super fitness required), it s also a great activity for the kids … no minimum age limit, or maximum for that matter!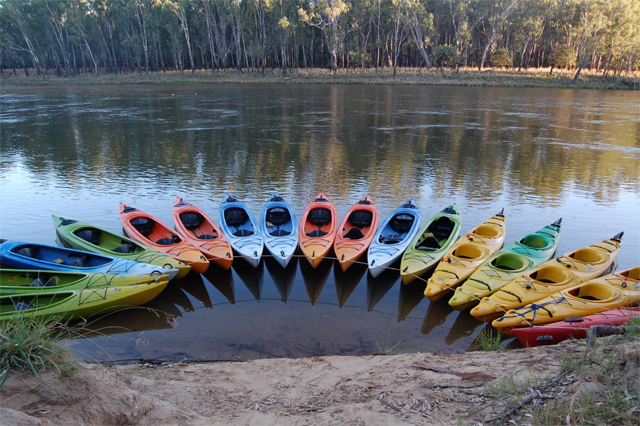 OUR TOURS
Play on the beautiful Murray River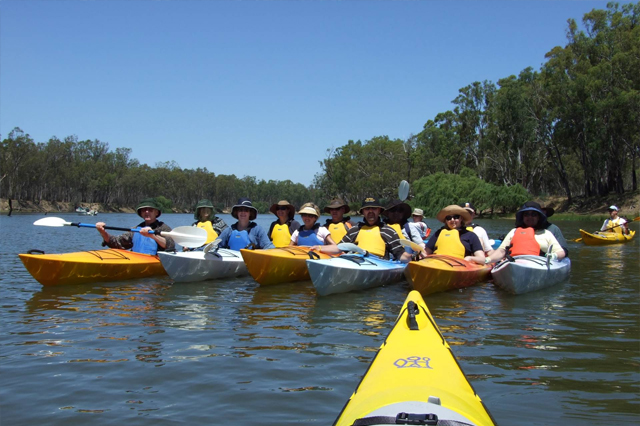 Guided Kayak Tour
Lasting for between 4 – 5 hours this is a great family activity, an experience that you can not get anywhere else. There are minimum numbers of 6 required for a guided tour to run, and booking are essential.
This adventure includes
Kayak and all safety gear
All safety equipment
Courtesy pick up from locattions in Yarrawonga or Mulwala
Fully qualified guide
Lunch snacks & drinks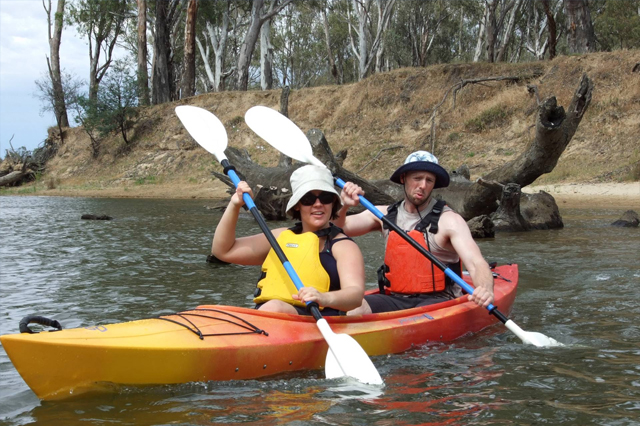 Self Guided Kayak Tour
If you are real adventurers and prefer to arrange your own paddle tour, we can help you to arrange a tour that suits you and your groups requirements. We have many touring kayak models for hire which allow you to store heaps and heaps of gear. Whether you are planning for a day or a week we can help you with advice on great camping spots, supply of maps and even arrange pick up at the end of your journey
This adventure includes
Hire of kayaks
All safety equipment
Pick up from final destination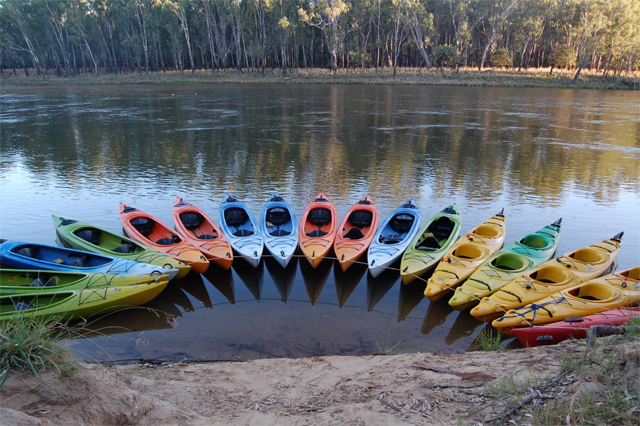 Overnight Kayak Tour
If you are looking for a weekend escape with an adventure feel, our overnight camping trip is for you. This adventure is ideal for familes or groups – what a bargain weekend for a family of 4 @ $300… less than $100 per person for a full weekend activity! This is also a great idea for a group of friends or mates (sometimes the boys get a bit more excited about this than the girls!)
This adventure includes
2 Day Kayak Hire
All safety equipment
Drop off at your starting point
Pick up at your final destination
Can also include car drop off at your overnight stop (This avoids having to pack everything into the kayaks)
LOCATION
Situated 8km from the township of Yarrawonga